Ok, I did try and find another name for it, but alas, I just couldn't!
Whilst editing and updating my facebook page, let me say, I just love the application, the way it works and how everything is integrated into a couple of actual pages, they take the Internet social networking scene to a new level.
Browsing is today, I had this message come up, one which has been bugging me, let me illustrate it in a picture…

So, this is the image which came up, ok, it's on facebook, facebook doesn't lie, right???
Well, going into the "IQ Test" <(quotes around that for good reason, more on that in a sec…) I found that there is a little disclaimer, conveniently places underneath the flash page, where you cannot see it, and one of those ones that I just don't read, hey, I wanted OFF my friends dumb list, right?
SO I proceed into this 10 question "IQ Test" (see, told you I would tell ya :)) and it's nothing more that ten pretty simple questions, then, at the end, I get this box!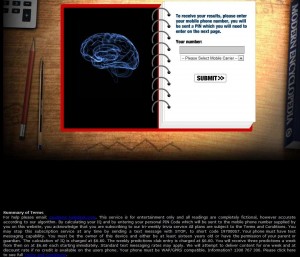 SO, I read the bottom, which is conveniently hidden, and doesn't show up when I click the 'privacy policy' and of the many words, they say that I will be charged more than $50 per month for completing this test (let alone the $6.60 for giving you an "IQ Test") and I have to OPT-OUT to not be charged. 
This is truly a scam and I hope facebook will remove this.
I have contacted them regarding this but have as yet received a reply, will eagerly await this message disappearing from my screen.